WHERE WE STARTED & WHERE WE ARE NOW
Revolutionising the superyacht industry with YETI 1.0 and beyond
Timeline of YETI Development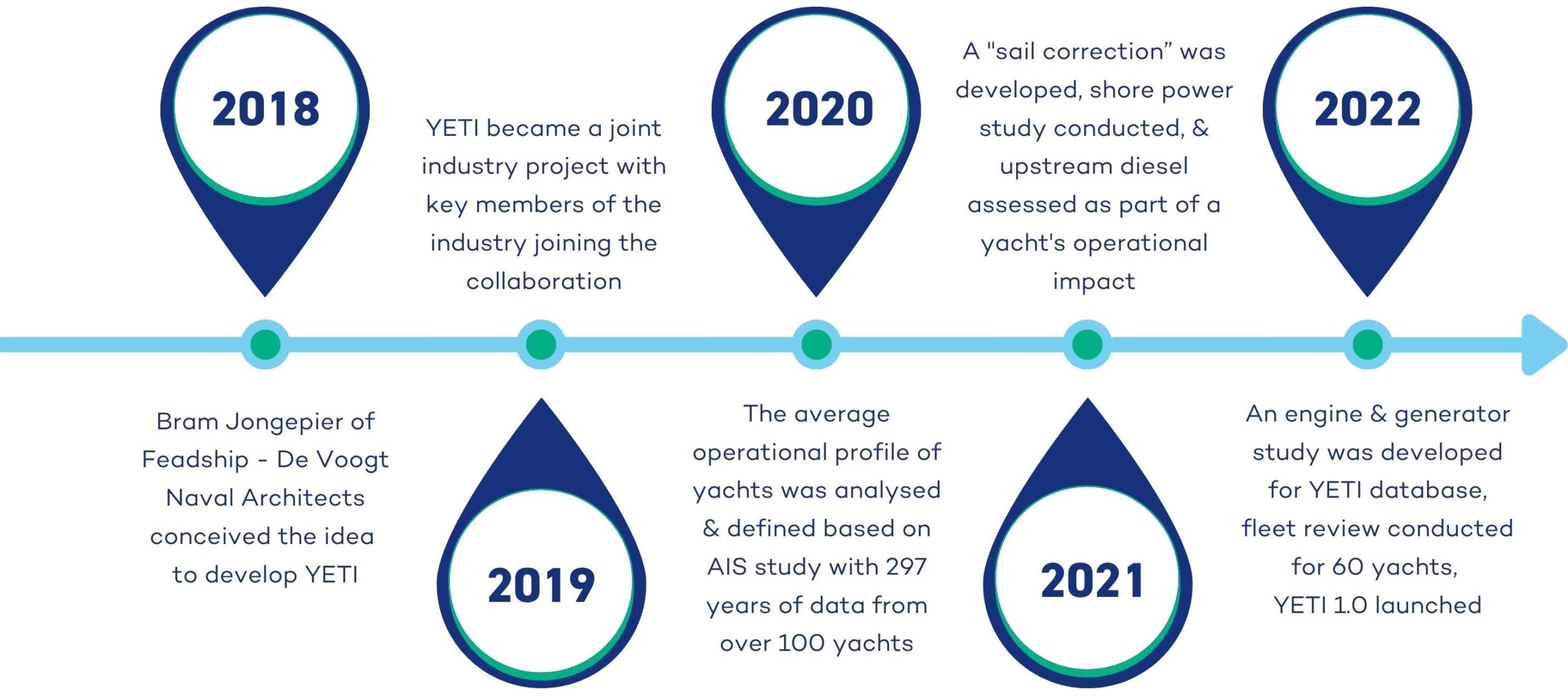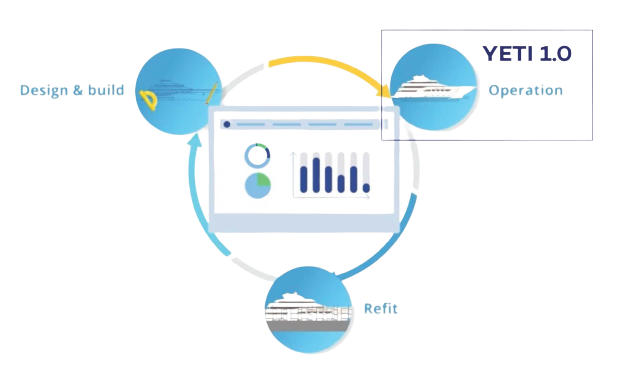 YETI 1.0 has just been launched with a focus on the most impactful part of a yacht's lifecycle – its operational phase.
By assessing a yacht's emissions and comparing these within defined classes, YETI 1.0 indicates how efficient a yacht's onboard systems are based on an average operational profile. The more efficient, the lower the score! Scores, which are expressed in EcoPoints and divided by Gross Tonnage to provide a comparable measure of impact per GT, reveal the best in class to learn from and guide the optimisation of other yachts in the fleet.
Maximum efficiency, minimal emissions
By showing where points are lost and or/gained, YETI 1.0 reveals where a yacht's environmental impact is coming from and how it can be reduced.
The tool determines the emissions and efficiency of a yacht's annual operation, expressing the outcome in EcoPoints, which are a quantity of emitted pollutant per kg of analysed fuel and corresponding exhaust gases. To make this assessment, information concerning a vessel's general parameters, speed-power, load determination, generators, battery bank, and heat distribution systems are required as input data.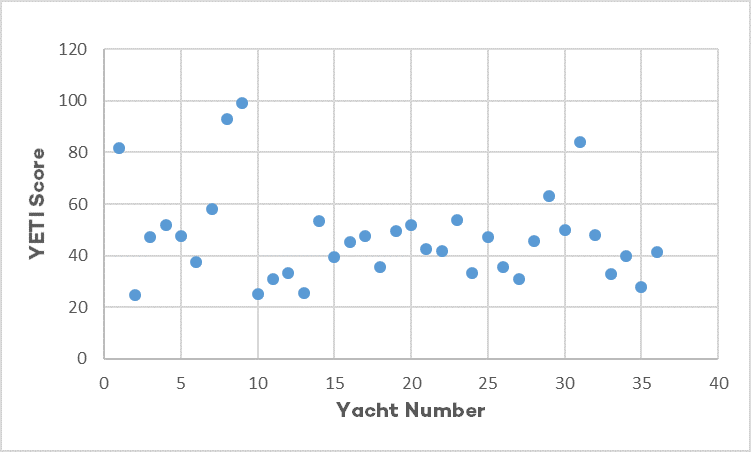 YETI offers a reliable comparison – no different than the rating systems you know from cars, buildings and refrigerators.
The plot indicates the preliminary YETI scores of the assessed fleet for unique Yacht Numbers. The lower the score, the fewer Ecopoints have been collected, meaning the better optimised the yacht is in its operation. To find out where your yacht stands, return a completed input datasheet to us!  Once the YETI score has been calculated, you will be able to track your score on our website through a unique number that only you know. Should the YETI calculator be updated, your score will automatically be recalculated.
Workshops will also be organised for members of the industry to better understand their rating by attending a live YETI score calculation.
This session will clarify the required input, assessment process, and outcomes generated as a single score. It will reveal how eco-friendly choices are rewarded and showcase YETI as a tool that is here to help instead of judge.
PRE-REGISTER FOR WORKSHOP
The future of YETI: 2.0 & beyond
Many new milestones are being developed & achieved for the future of YETI. 
Our board of directors have defined a number of concrete goals for upgrading YETI in their three-year plan. In this upcoming quest to develop YETI 2.0, engineers, captains, shipyards, naval architects, and management companies with expertise and data are encouraged to join the YETI industry group. Participants will meet regularly to provide insights for YETI's future progress – please contact us here to express your interest.

"It's not something we should want to compete over – it's about knowledge, and really understanding how to reduce the impact we're creating."
Giedo Loeff, Naval Architect at Feadship De Voogt
"YETI is not just a calculation tool – it is a vital platform to start up the bigger conversations surrounding sustainability."
Hanna Dąbrowska, Sustainable Design Specialist at Water Revolution Foundation
"If we do nothing, and we just build the boats that we currently build, then we will be history. YETI offers a solution, and it's not complicated.
Henk de Vries, Chairman of Water Revolution Foundation & CEO of Feadship