Role
Custom support yacht builder & developer
Shadowcat is an award-winning company specialising in the creation of innovative, bespoke support vessels for the superyacht industry. These vessels are tailor-made to align with their owner's vision and are uniquely suited to their needs.
One of the key strengths of Shadowcat is their focus on customisation. The vessels accommodate a wide variety of airborne, marine and land-based vehicles, including helicopters, submarines, jet skis, quad bikes and speedboats. With dive rooms, fuel storage, medical facilities, and luxurious chill-out zones, Shadowcat makes the storage, maintenance, launch and recovery of superyacht toys a breeze.
The company behind notable shadow vessels Hodor and Wayfinder, Shadowcat prioritises innovation and constantly strives to push the boundaries of design, incorporating the latest advancements in naval architecture, engineering, and materials.
In addition to their commitment to design excellence, Shadowcat also emphasises environmental sustainability, developing innovations and technologies in order to minimise environmental impact without sacrificing exceptional performance and luxury.
Together, with world-renowned partners InCat Crowther and Armon Astilleros, Shadowcat is continuing to set the standard in the superyacht support vessel industry.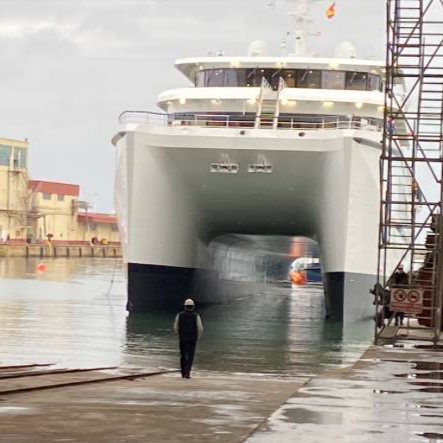 Why Shadowcat supports Water Revolution
"By nature, when you are developing bespoke vessels, the necessity to continually innovate is ever present. There are new challenges to be met, differing needs of clients to satisfy, and outside forces that help us realise the role our innovations can play. The fact that we've long embraced sustainability is a natural and ongoing endeavour for us, as it's yet another engineering challenge to be conquered through innovation. The mission couldn't be more critical. We are proud and humbled to partner with Water Revolution Foundation in their quest to lead the superyacht industry towards neutralizing its ecological footprint and preserving our beloved oceans."
— Robert Smith, CEO